Main Page
Jump to navigation
Jump to search
Welcome to the Bilbcraft Wiki!
Bilbcraft is a Minecraft Java Edition server for fans of Bilbo the Cat, and has been running since February 2020. It currently operates on version 1.16.4. The server is predominantly a standard survival multiplayer game, with additional functionality provided for transportation and quality of life.
Getting Started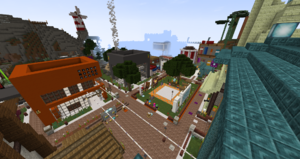 You'll begin your journey in Spawn Village, a wide metropolis with many shops to buy things from, free public transportation, and many places to explore. From here you can either use the light rail to explore the city or the main train lines to explore the Bilbcraft universe as a whole.
Featured Build
The current Featured Build is Stripelet's Museum in Cosán. The official opening is at 6pm BST on Friday 5th June 2020 (Time Zone Converter).
Transportation
A large and growing rail transport network serves each cardinal axis on the map, predominantly operated by the Central Rail Authority.
Central Station is the hub for rail, subway, portal, Elytra and freight transport in the overworld, and has canal access within 50 metres.
For more details on transportation on Bilbcraft, see the Transportation page.
Useful links
Editing this Wiki
If you're a member of the server, feel free to create an account, then edit and create pages. Visit Special:AllPages to see what's already here.